Almost all careers require some form of education or training after high school. It is important to plan for college while in high school to find the best program for you and to be prepared financially to pay for college.
Use the links below to explore different colleges and financial aid options.
ICAN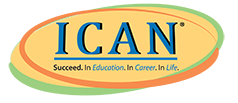 ICAN has great resources like freshman/sophomore and junior/senior calendars for planning, types of colleges, what to consider when exploring colleges, financial aid guide, and understanding scholarships.
College Fairs
College Fairs are a great way to visit a lot of colleges in a short period of time. Learn more about college fairs through this presentation by raise.me
College Searches
There are many college search tools. A few we recommend are through the students' Xello account, College Board, College Raptor, and Iowa Private Colleges
College Visits
COLLEGE VISITS WILL TAKE PLACE AT 2:45 in the first floor commons by College Reps. Watch the bulletin and emails for weekly updates on our visiting reps.
Scholarship Searches
Scholarship Searches – finding money to pay for college can be a daunting task. Besides are local scholarships found in Student Services Center and scholarships offered through the college/university; use these various search engines to find other scholarships you may be eligible for:
Regent Admission Index
FAFSA
College Sports
Military
The Military has many great benefits including a career, college opportunities, and scholarship opportunities.
Common App
Financial Aid