College Visits
Want to know more about colleges? Talk to a representative visiting our school during STORM Time. Find the schedule here, on the bulletin board outside Student Services, or in the daily bulletin.
College Admission
Considering going to Iowa State University, the University of Iowa, or the University of Northern Iowa? Check out how the regent schools calculate automatic admission.
Does your school require the ACT for admission? Register for the ACT here. Borrow a study book from Student Services or use the links below to study:
A 1 Month Study Plan may be helpful
College Searches
College Search sites can help you find new schools to consider. Find national information about colleges, search by a certain major, and review data to find the best fit for you with the College Scorecard. Use CollegeRaptor to find a college, research careers, and consider financial aid options. Want to explore private colleges in Iowa? Check out this site.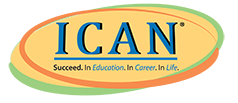 ICAN has great resources like freshman/sophomore and junior/senior calendars for preparing for college and what to consider when exploring colleges.
College Sports
Job Corps
Job Corps provides free career training and housing for students considered low-income in both Denison and Ottumwa, Iowa.