Course Planning
Learn about courses offered at CPU High School and registration guidelines with the 2023-2024 Course Manual.
Do you have a career area in mind and are wondering what classes to take? Check out our Career Cluster Pathways.
Junior and senior students usually have room in their schedule to take a career academy set of courses through Kirkwood.
High School Graduation Requirements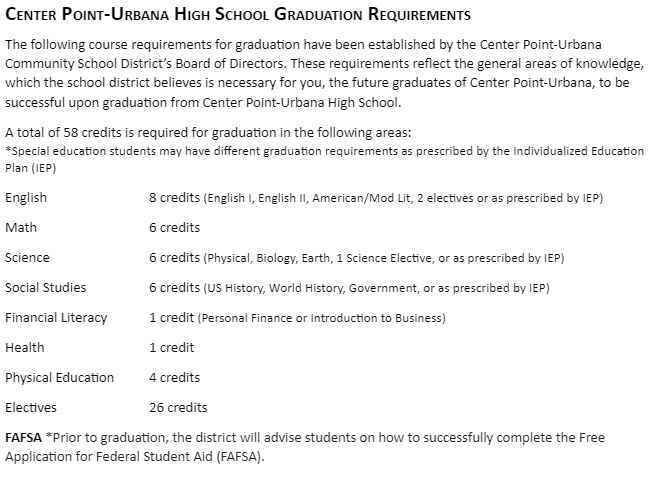 Courses for College
Any students planning to attend a regent university above should check out the CPU classes that meet the core course requirements. Not sure where you want to go for college? Check out general recommended classes for college.
ACT Test Dates

Register at www.act.org
CPU School Code: 160-710
Test Dates
Registration Deadline
September 9, 2023
August 4, 2023
October 28, 2023
September 22, 2023
December 9, 2023
November 3, 2023
February 10, 2024
January 5, 2024
April 13, 2024
*At CPU HS*
March 8, 2024
June 8, 2024
May 3, 2024
July 13, 2024
June 7, 2024
Study Skills
Need help being successful in school? Learn to Study scientifically and manage your time effectively.
GPA Calculators
Calculate your Grade Point Average (GPA) with either an online calculator or UW's GPA Calculator.